How Often Should You Rotate Your Tires?


Generally speaking, Bessemer drivers like you should take their vehicles in for a tire rotation every 5,000 to 7,500 miles. There are vehicle and drivetrain-specific factors at play, so the service department here at Brady Kilmury CDJR covers when to rotate tires, how many miles to rotate tires at, and more below!
Why and When to Rotate Tires
Many people that ask about how many miles to rotate tires often wonder about what tire rotation does to improve their Birmingham drives. Because different tires receive different levels of stress on the road, rotating your tires makes sure that your drivetrain stays even and your tires wear at the same pace. Tire rotation benefits include:
Improved Traction: Keeping your tires on a rotation schedule ensures even traction.
Quieter Drives: Rotation makes driving smoother.
Drivetrain improvements: Uneven tires put stress on parts of the drivetrain more than others, but rotation makes sure that this doesn't happen.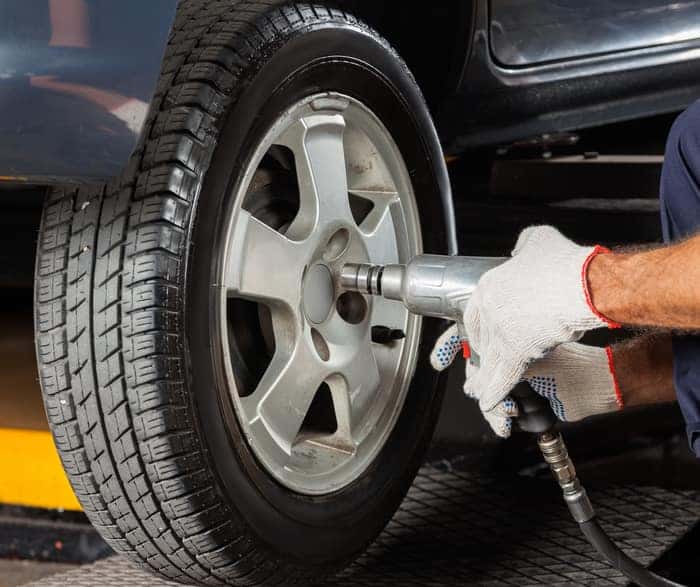 How Often Should You Rotate Your Tires? Front and Rear-Wheel Drivetrains
As with everything related to your vehicle's specific needs, your owner's manual will tell you exactly how long they recommend driving through Hoover before tire rotation. Consider the following factors for FWD and RWD vehicles:
For FWD vehicles, technicians exchange the front and back wheels but switch the right and left sides of the wheels moving to the front.
RWD vehicles undergo a similar process, but in reverse.
For FWD and RWD vehicles, Tuscaloosa drivers should schedule service at the 5,000 to 7,500 mile marker, but factors like road conditions can change this number. Make sure to pay attention to your car's performance!
How Many Miles to Rotate Tires: All-Wheel Drivetrains
AWD vehicles wear down your tires in a different way from FWD or RWD vehicles, which is why it's generally recommended to take them in every 3,000 to 5,000 miles. Consult your owner's manual for vehicle-specific recommendations on when to rotate tires for your AWD.
Get Tire Rotation Service at Brady Kilmury CDJR!
For tire rotation service and more, Bessemer and Tuscaloosa drivers can consult Brady Kilmury CDJR, where tire rotation and other essential services like oil changes are offered with cost-saving coupons. We also help drivers with service tips, such as how to rotate tires or what TPMS means, so contact us with any questions today!
More from Brady Kilmury CDJR
Are you ready to take on Birmingham roads with power? The 2023 Dodge Challenger will give you the excitement you're looking for! With eight different configurations available, we can guarantee that you'll find a 2023 Dodge Challenger trim level that feels like a perfect fit for your needs. Read below for detailed information about…

Did you know there are 8 impressive 2023 RAM 1500 trim levels to choose from? That should be enough options to please even the pickiest Bessemer driver. But how much does the 2023 RAM 1500 cost? The 2023 RAM 1500 price starts at only $37,410. We list each of the 2023 RAM 1500 configurations…

The raw power of the Dodge Challenger is best experienced from behind the wheel—but even on paper, this model stands out from everything else on the road today. 2023 might be the Challenger's last call, but its makers certainly aren't slowing down yet. According to Dodge, the 807-horsepower 2023 Dodge Challenger SRT Super Stock…