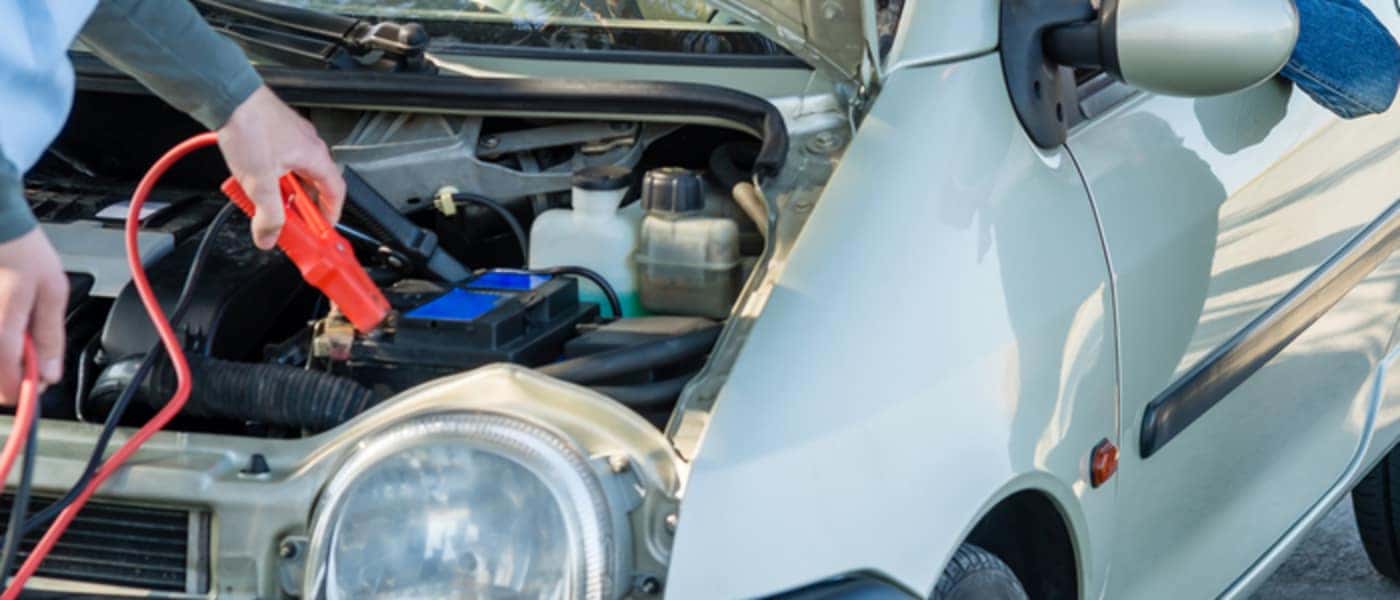 It's happened to every driver: you get in your car in Birmingham, turn the key, and hear that tell-tale clicking that means you need a jump start. Jump start car service for a dead battery can be pricey and time-consuming, so it's a smart idea to learn how to jump start a car. When you know how to properly jump start a car, you can keep yourself from getting stranded, and even be a good samaritan if you encounter another driver in a bind. Learn the proper way to jump start a car with the service center experts at Brady Kilmury CDJR.
The Proper Way to Jump-Start a Car
You can call a jump start car service but there's usually a wait and if you don't have proper coverage, it can be expensive. It's easy to learn how to jump start a car:
Along with another car with a charged battery, you'll need a set of jumper cables to jump start a car battery. It's easy to stash a set of jumper cables in your cargo space and keep them handy at all times.
Have the car with the good battery park so that the jumper cables can reach both batteries. Facing each other is the best option. Make sure that the vehicles are turned off, and their parking brakes are set.
Open both hoods and find the batteries. You may need to remove a plastic hood to expose the battery terminals.
Identify the positive and negative terminals. Make sure they're clean and free of any corrosion.
Connect the red clamp to the positive post on the dead battery. Connect the other red clamp to the positive terminal of the battery with the charge.
Connect the black clamp to the negative post on the good battery. For the final clamp, connect it to an unpainted metal surface on your car's frame.
When everything is hooked up securely, start the engine of the vehicle with the good battery first, then the one with the dead battery.
When the dead battery has been jump-started, carefully remove the jumper cables in the reverse order that they were placed on, then shut off the car that was used to help jump start the dead car.
Keep the engine running on the restarted vehicle for at least 10 minutes to ensure that the weak battery holds a charge. Consult your owner's manual for more info on recommended times.
What to Do if Your Car Won't Jump Start
It might be time for a battery replacement if your car won't jump start. Or there might be a problem with your car's electrical system. Here are some ways to tell what's going on when your car won't jump start:
If you only hear a clicking sound when you try to start the car, the starter might not be functioning. Schedule service at Brady Kilmury CDJR to have it checked.
If the electrical systems of the car turn on, but the engine fails to turn over, the problem is probably not your battery. The ignition switch, battery, starter, or a fuse could be the problem. It's worth bringing your vehicle to a service center to diagnose the issue.
Again, be sure to keep your vehicle running for a while after getting a jump start. That allows the battery to recharge fully after it's been drained.
Turn to Brady Kilmury CDJR for Service
Whether you need an oil change before heading to Tuscaloosa or a major repair, our crew of certified technicians is here to help you. Contact our service department with your questions and they'll be happy to help. Don't forget to browse our service specials so you can save money when it's time to have your car serviced.